My third year as a private tour operator has been the busiest to date. I'm already accepting bookings for next year — the first cruise ship arrives in late April 2018.
By far the most popular tour was the Secret Scenic Route to Peggy's Cove, created by my late friend, Blake Maybank (left).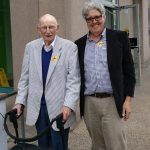 Although all tours are unique and memorable in their own way, the day I squired D-Day veteran Mr. Jack Lewis (right) around Halifax was a definite highlight.
Here are some of the comments left by my customers during the 2016 season:
so the cruise ship offered a tour to in Halifax where the comments seemed to be about not enough time and the main attraction Peggys Cove. and believe me it wasn't cheap. I looked online and found tours by locals … and, for modestly more, my wife and I had a private tour guide (Jay) who happened to be a retired history professor specializing in the area. We saw peggys cove and the titanic burial site just like the big buses… but so much more and with great insight… best $$ I have spent in years
"Perfect tour. Costs more than bus tour but you go where you want. Saw three off the path coves and fishing villages. Spoke with lobster fisherman working on boats and traps. You can't do this on a big tour. Jay called ahead for lobster lunch so we didn't have to wait in line. Jay was very knowledgeable about Halifax history. Even helped me find a hockey shirt. If you want a private and up close and personal tour Jay is your guy!"
"Jay, with his local knowledge and his willingness to please, made our day with him the highlight of our trip! We were a group of 6 painters and we all paint from our photography, so we asked for a day filled with scenes fit to paint. Jay is a photographer himself, so he knew the hidden spots which were far from the tourist buses. Personally I was able to shoot enough for a hundred paintings, but certain special shots were all thanks to Jay. Lobster lunch was perfect too! Thanks so much Jay!"
"If I could have given Jay 6 or 7 stars, I would have. We have been to Halifax 3 times before and saw things most people won't on typical tours. Jay has a doctorate in Canadian history and a vast knowledge of US history as well. He is very well traveled and is very engaging. Lunch was delicious at a commercial lobster distributor served in plastic crates and lobster, mussels, or raw oysters only. He will take you places where the buses don't go. You will not be disappointed."
"Jay was very informative and knowledgeable about Halifax military history. My stepfather, a Dday vet, particularly enjoyed the visit and beer with former fellow artillery men at the Royal Artillery Park in Halifax. Jay was also able to orchestrate a sessession [sic] at Admiralty House with the director of the museum including a look at one of the original copies of the naval plans for Dday. Thanks Jay for making the day special."
I am listed under Halifax, Nova Scotia at ToursByLocals.com